2019.11.1(FRI) 6F

TERMINAL -GRAND OPENING PARTY-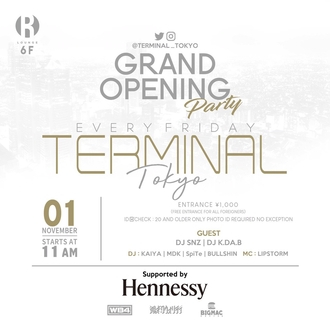 OPEN / 23:00
ENTRANCE ¥1,000
FREE ENTRANCE FOR FOREIGN PERSON
GENRE:HIP HOP / ALL GOOD MUSIC

GUEST DJ:SNZ / K.DA.B

DJ:KAIYA / MDK / SpiTe / Bullshin
MC:LIPSTORM

Supported by:Hennessy

これまで「週末クウォリティ」をスローガンに10年近く毎週水曜日を盛り上げ来た
"TERMINAL"が満を持して毎週金曜日開催となります!!
HIP HOPを主軸に躍らせるパーティ!新たにHennessyが協賛に加わりパワーアップして週末を彩ります。
フライヤー持参でWelcome HenneySHOT、入場料は1000円、外国人の皆さんはエントランスフリー!
今後様々なコンテンツも用意しております。出演者一同、皆様のご来場心よりお待ちしております。

#Terminal_Tokyo , had been turning up the club every Wednesday for almost 10 years with a motto called ''Weekend Quality '' will change from Wednesdays to Fridays, mainly dedicated to bringing you hip hop sounds.This time, this party upgraded with being surpported by Hennessey.We serve a Henny shot as a welcome drink to each customer bringing flyer .
Entrance fee will be ,000 and Free entrance for all foreigners.
Our party hopefully will be literally Tokyo's party destination of choice.
We welcome you all to #Terminal_Tokyo !!!